We at ReCA are redefining what the term "Re-entry" means. In today's common usage, re-entry is used to talk about men and women transitioning from an incarcerated setting back into society. And while our organization certainly does envision that component in our conceptualization of "re-entry", we expand our definition to more importantly capture individuals and groups transforming or re-entering their true, best selves. We facilitate this "re-entry" into thriving human beings reaching their full potential by utilizing the coach approach.
While we do much work with the incarcerated and formerly incarcerated, we will continue to work with various organizations and groups where we see commonalities—such as veterans transitioning home from active duty, individuals in recovery transitioning from active addiction, and organizational cultures seeking to transition from mediocrity to excellence.
Our peer-to-peer facilitation model of habilitation is our primary means of being successful in the re-entry industry. We empower our participants to become peer facilitators by giving them the tools and confidence to be able to affect growth within their respective communities. It is precisely this methodology that will ensure sustained behavioral transformation and that the new great habits will take hold and lead to a thriving life.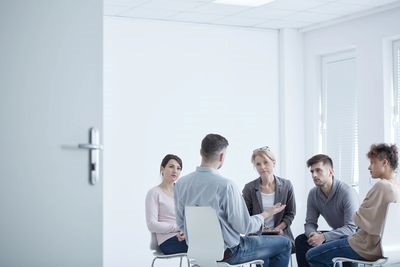 "If you want to listen more effectively, then W.A.I.T."
Why Am I Talking is a good way to help you listen better and interrupt less.